Character - Leader.
Points: 10/14. Health: 10.
After you resolve this die, you may deal 1 indirect damage () to an opponent or discard the top card of a deck.
"I've been in this fight since I was six years old."
Borja Pintado
Way of the Force #90.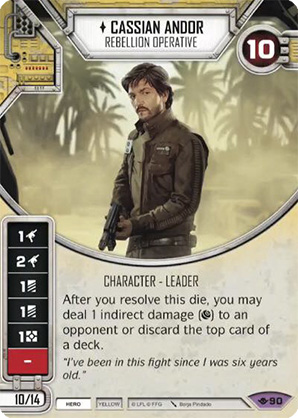 Character - Spy.
Points: 10/12. Health: 10.
Detect.
You can include up to 4 different intel cards in your deck, ignoring affiliation and color.
Power Action - Play a Yellow card from your hand. Then you may spot a leader to ready a non-character card.
ARH
Faltering Allegiances #40.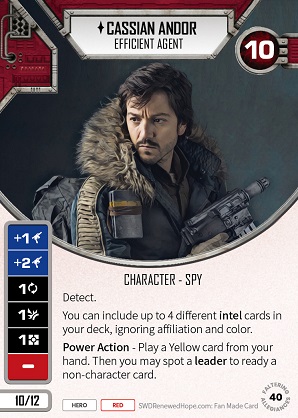 Upgrade - Weapon.
Cost: 3.
Redeploy.
Action - Resolve this die showing ranged damage, increasing its value by 1. If this upgrade is on Cassian Andor, that damage is unblockable.
ARH
Faltering Allegiances #46.